Accountants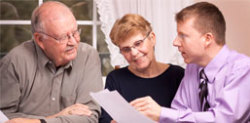 Are you in need of accounting help? Whether you're an individual taxpayer or the owner of a small business, David B. Newman, LLC, can help with all of your accounting needs. You don't need to spend time searching for an accounting firm when one call to our pros can give you peace of mind and resolve all types of tax and bookkeeping issues. From accurate bookkeeping to tax filing assistance in the Dallas area, our tax consultants have what it takes to help you get your finances in order. Our dedication to customer service is unparalleled, and our tax help firm is committed to customer service, so you can rest easy knowing that you're in good hands. When you need an accounting service in Texas, don't turn to another accounting company. Call us now to get started on solving your accounting issues!
While you may think that you can only turn to CPA firms for help with accounting needs, that's simply not the case. The tax attorneys at David B. Newman, LLC, have 40 years of experience providing accounting service. We're committed to helping you budget your money and manage your finances without stress or anxiety. With in-depth knowledge and expertise in corporate and personal accounting, our tax consultants are well versed in state and federal tax codes and regulations. Whether you need help resolving IRS back taxes, filing local property taxes, or keeping your company books balanced, our firm is your answer for accurate and efficient tax accountant help. We'll work diligently to make certain that your finances remain in great standing with the state and federal tax authorities at all times. You can call on us for a variety of services, including:
Bookkeeping
Back tax resolution
Financial planning
Tax preparation
Tax planning for new businesses
And so much more!
If you're searching for an accountant in Dallas, there's no need to look anywhere else. David B. Newman, LLC, is here to make financial planning, bookkeeping, and back tax resolution convenient and stress-free. When you need an accounting company you can trust, let our experts handle the job. We can offer the same services as most accounting firms in the area, and our legal expertise can help solve all of your financial problems!
Tax Accountant Specialists You Can Trust
At David B. Newman, LLC, customer satisfaction is one of our top priorities. When you choose to work with us rather than other accounting services, you'll benefit from our dedication to providing clients with superior customer service. Whether you need help with bookkeeping or you need advice about starting a new business, our tax accountant team is here to take great care of you. End your search for accounting firms today by calling our licensed and insured tax attorneys!
accountancy firms
corporate accounting
accounting firm
personal accounting