Tax Preparation Services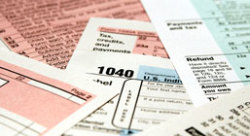 Does the mere mention of tax season make you want to hide and completely ignore your tax return? Are you worried that a mistake during tax preparation might cause you financial harm? If your answer is yes, then you need the tax services offered by David B. Newman, LLC. We offer professional tax preparation services for individuals and business owners in Dallas and nearby areas. Whether you're at a loss as to how file your income taxes or you simply don't have the time for income tax preparation on your own, you can rely on our tax preparers to handle the job. Call or e-mail us today to speak to a tax preparer about your needs or to schedule an appointment!
When it comes time to prepare a tax return, there's quite a bit for you to think about. You may need to take an in-depth look at your finances to see what kind of exemptions you may be eligible for, and you may have to spend time reading up on tax codes and regulations. If this doesn't sound appealing to you, you can always turn to the tax preparers at David B. Newman, LLC. Our tax preparation team can assist you with:
State returns
Federal returns
Business tax issues
Payroll taxes
Extensions
Addenda
Back tax returns
Complex returns
And so much more!
With 40 years of experience providing tax services to individuals and businesses, there's no tax return issue that our tax attorneys can't handle. Whether you are suffering under the financial burden of hefty back tax debt or you simply want to make sure that you get your company's taxes correct, you can rest assured that our tax preparation service will meet your needs. A tax preparer from our team will sit down with you to discuss your goals and help get you the most favorable, accurate return possible.
Back Tax Preparation Pros
If you're behind on your taxes, then hiring an income tax preparation pro from David B. Newman, LLC, is in your best interest. Our income tax preparers are well-versed in all of the tax issues that you might encounter when filing overdue returns, and that means you can trust us to offer you impeccable, accurate tax preparation service. Rather than let the burden of unpaid tax debt weight on your mind, let us provide you with precise, professional tax preparation services that will help you get back in the good graces of the state and federal tax authorities. For help with back tax preparation and so much more, turn to David B. Newman, LLC, today for a free estimate!
Tax Filing Service
Tax Prep Service
File Tax Service
Tax Preparation Services