Tax Resolution Services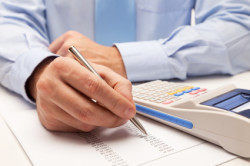 There's no denying that back taxes are serious financial issues that can cause a great deal of stress—but that doesn't mean you should put tax resolution off. The sooner you take steps to deal with your unpaid taxes, the sooner you will feel financial relief and return your life to normal. The attorneys at David B. Newman are familiar with back taxes and know the resolution process inside and out, and we'll put our 40 years of experience with state and federal tax codes to work for you. Whether you need help filing back taxes or want to explore all of your back tax help options, our tax attorney team has the solution for you. When you hire our professional tax consultants and tax attorneys, you'll immediately start working toward hassle-free tax resolution and financial recovery. We will work tirelessly to provide you with effective back tax relief solutions that meet your needs. Call or e-mail us today to speak with one of our attorneys about your tax issues! We serve Dallas and environs, and we're ready to help end your tax problems.
Tax Settlement Negotiations
Tax settlement negotiations and tactics vary depending on each taxpayer's unique situation, in terms of income, assets, and tax history. That's why David B. Newman, LLC, offers a long list of different tax resolution options aimed at accommodating the particular needs of each and every client. When you hire our licensed and insured tax attorneys, we'll determine which tax relief option is most suitable for your case and explain the tax code in a manner that's easy to comprehend. With David B. Newman, LLC, on your side, your tax debts will soon be a distant memory!
You have several options for dealing with unpaid taxes, including:
Offers in Compromise
In many cases, the IRS is open to negotiating an offer in compromise, an agreement that allows the taxpayer to resolve his or her tax debt for less than the total amount owed. However, there is no guarantee that you will be able to secure such an agreement, as your situation must meet certain criteria in order for you to qualify. When you hire our team, David B. Newman, LLC, will help you present your case in the most favorable light.
Because of the strict requirements for this type of tax settlement, it's important to get help from qualified professionals. Before you even go through the application process, the tax attorneys at David B. Newman, LLC, will look over your past and present finances and determine whether you are a valid candidate. If we conclude that you may be eligible for an offer in compromise, we will provide you with all the assistance you require for negotiations and paperwork to ensure most beneficial outcome possible.
Installment Agreements
When you owe a large amount in back taxes, paying it all back in one installment is usually not feasible. That's why the IRS and state tax authorities are often willing to negotiate a payment plan, in which you can repay your tax debt in smaller monthly increments. With this tax settlement option, you'll be able to steadily work your way back into the good graces of the tax authorities without cutting things close with the rest of your finances.
Wage Garnishment Relief
Legally, the IRS is empowered to deduct money from your paycheck as a way to ensure your back taxes are repaid. Known as a wage garnishment or wage levy, this process can seriously impede your ability to take care of your other bills and expenses. Fortunately, David B. Newman, LLC, is able to help you avoid and remove wage levies through proven strategies like offers in compromise and installment plans. Rather than suffer through the financial stress associated with tax issues, let the tax consultants at David B. Newman, help you put an end to wage garnishment. 
Penalty Abatement
When you owe back taxes, you'll be charged penalties and late fees until you pay off your balance. No matter what you owe in back taxes, you'll pay even more than what you initially owed. If you've been saddled with increasing penalties and growing interest, call David B. Newman, LLC. Our team of tax attorneys in Dallas will help you determine if you can qualify for penalty abatement, in which the IRS determines whether you had reasonable cause for late or unpaid taxes. Whether you were prevented from paying by a death in the family, unavoidable absence (e.g. prison or rehab stint), or inadvertent destruction of your tax records, the experienced tax lawyers at David B. Newman, LLC, will be able to assist you with every step of the penalty abatement process.
Innocent Spouse Relief Claims
To save time and hassle, the majority of married couples opt to file joint tax returns, but few understand that doing so makes both parties equally responsible if tax issues ensue. If a separation or divorce occurs in the meantime, the situation can become complex for all parties involved. Fortunately, the IRS and state tax authorities understand that there are certain mitigating circumstances in which one spouse is entirely innocent of committing any falsehoods or errors. If you think this circumstance might apply to you, then the tax attorneys at David B. Newman, LLC, will work with you to understand all the nuances of your situation and negotiate with the IRS for innocent spouse relief.
Appealing a Government Action
When the state or federal government takes action against you for tax debts, you may soon find yourself in a precarious financial situation. Put your trust in the tax consultants at David B. Newman, LLC; we can help you appeal any such government action and get your finances straightened out! Don't resign yourself to living in fear of what tax problems will do to your financial life when you can easily call in our tax pros to help. 
No matter which tax debt relief solution works for you, you'll be able to count on David B. Newman, LLC, to provide you with expert assistance when you need it most. We're available 24/7 to deal with your tax problems and we work hard to get Dallas-area businesses and individuals out of tax trouble. Whether you're an individual taxpayer or business owner, you'll be able to trust our expert tax attorneys and tax advocates for swift, effective tax resolution. Contact our tax help specialists via phone or e-mail today to get your tax situation under control!
tax resolution
tax settlement
tax penalty abatements